Microblading or Powder Brow?? Hmmmm. How do you know which brow is best for you? Depends on how you like your brows to look. Do you want a fuller look that looks like you put make up on them everyday? Or do you want hair strokes to look completely natural? Below are two pics of powder brow and microblading. No matter which brow you decide on, you will be in love! Brows are so important to the face. Its like having a beautiful picture, then you put a frame around it and it makes that beautiful picture complete.
This beauty already had great brows, but just wanted them a little fuller. She wanted a slightly lighter color, and a little more even. The biggest complaint i hear is how tough it is to get these brows even. First of all, nobody's brows are symmetrical and that's why they always say, "brows are sisters and not twins." Well, at BelleLaVie we think brows should at least be fraternal twins 😉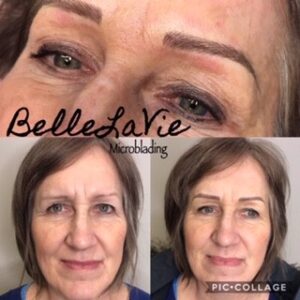 With this beauty, we wanted to start with the hair strokes because she needed a bit more hair. Not only will the microblading give her that natural hair look, it can actually stimulate your brow hair to grow back in!! I have seen it on myself and tons of my BelleLaVie ladies. She still has the option at her touch up to add a little shading to complete a fuller look.