Microblading by Belle La Vie
Come See Our New Salon!
We invite you to stop by and see our beautiful new salon and get a free Microblading consultation. We're conveniently located in the Quad Cities at 960 E 53rd Suite 2B in Davenport, IA.
We hope you will find our website informative and fun. If you have questions or comments, we would love to hear from you. Give us a call at 801-916-5755 or stop by and say hello!
Get Perfect Eyebrows Today
Microblading is an advanced brow embroidering technique where a pigment is placed under the skin with a configuration of needles affixed to a handheld tool instead of a machine. Unlike brow tattoos in the past, Microblading is designed to form thin, feather-like strokes that give a 3D brow effect.  It's perfect for uneven brows, over plucked, missing or for those who want fuller looking brows. You'll be amazed at the results! If you have questions, you may find the answers on our FAQ page. If you have a questions that we haven't answered there, just call me at 801-916-5755 and I'll be happy to discuss your questions. If you'd like additional information from an independent source, here is a link to Wikipedia page on the subject.
Gift Certificates Available
Looking for the perfect gift for the Belle in your life? Pick up a Belle La Vie Microblading gift certificate and give the gift of perfect brows.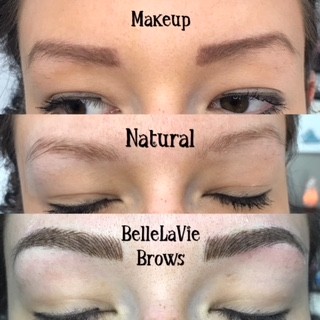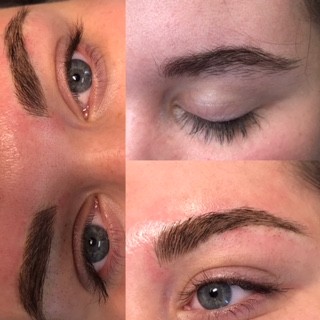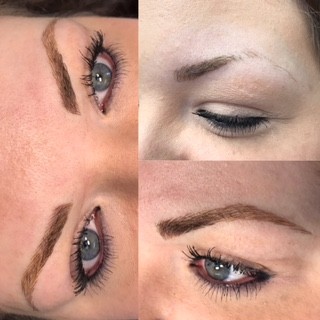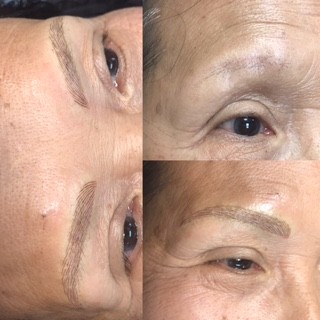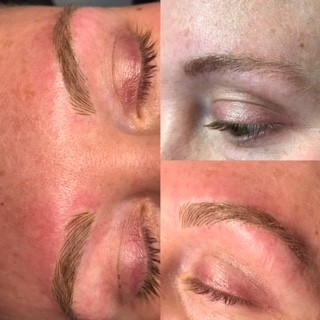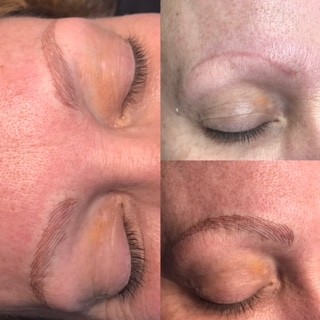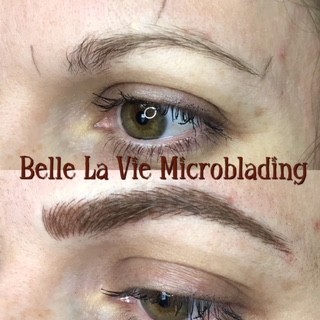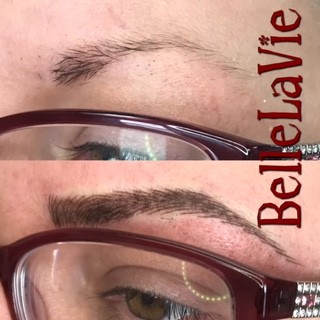 Results usually last up to 18 months (depending on the regeneration of cells per individual) and usually only needs an annual touch up. Unlike a tattoo, it is semi-permanent because the strokes aren't placed as deep. This is actually ideal. As time goes on, the face changes and brows can be reshaped accordingly. You get beautiful results that look like real hair. Your family and friends won't be able to tell the difference.
Ready to get some new eyebrows or a free consultation?
Schedule Your Appointment
Wake Up Every Morning With Perfect Brows
Kim is amazing 😉 I finally found someone that I was comfortable with and completely trusted. She is a perfectionist and listens to her clients. I would recommend her to anyone. I'm sorry I didn't have her do my eyebrows sooner. I can't say enough good things about her.
Susan Fenner
I have ZERO regrets. Just got my 6 week touch up done today (which is included in the initial cost paid for the original appointment) and i could not be more ecstatic. Kim is a perfectionist and it shows in her work and her dedication . I was already happily satisfied with my initial treatment. But i feel like my brows are PERFECT now. I get compliment s ALL the time. And people are always astonished  when i tell them how inexpensive it was. She got the color perfect, and they look like BROWS! Not stenciled sharpie streaks, or stamped on lines. Brows. Perfect combination of bladed lines and shading. The only thing i would change… I wish i had found her a decade ago. If your considering it i cannot recommend it highly enough. And Kim in particular ! Go see her immediately!
Kimberly Ann Pierce
Kim is absolutely amazing! Very down to earth & professional! She takes her time & does a fantastic job! Would recommend her to everyone I know!
Noël Wiebel
Kim was great! She was very professional and friendly. She's a perfectionist! She took her time and kept making sure I was comfortable and happy throughout the process! She did an amazing job and I'd highly recommend her!
Kiley Dorsey
Wow. Kim is an artist. She took her time and made sure that I was in love with the sketches on the skin first. While blading, she was entertaining, professional, and checked in with me to make sure I didn't feel anything. It really was an awesome experience and I HIGHLY recommend her services!!!
Jen Sambdman
Kim is very professional, thorough, responsive and talented. Definitely recommend her!!!
Alyson Chaney Cohen Weir
I was one of Kim's first clients and I wasn't going to do it because I was skeptical. But I saw my sister Mary's and she got her's done by Kim. I'm so glad got my brows done, she was a perfectionist at the measurements and color. I'm always getting compliments on my brows and asked where I got them done. It's nice waking up having to do one less thing. I'm excited to see how long this holds up. 🙂
Deanna
Kim did an excellent job. I am a breast cancer survivor and also have a large scar on my forehead from an auto accident years ago. She was able to work with my skin and give me eyebrows!
Lisa Pratt-Bohland
Literally what everyone else says. She is a perfectionist!
Alyissa Lewis
Microblading Procedure
Photos & Videos
Belle La Vie Microblading Salon
click photos to enlarge
Find Out More or Schedule Your Appointment
Conveniently Located
We're conveniently located in the Quad Cities on the 53rd street corridor at 960 E 53rd Suite 2B in Davenport, Iowa. For your convenience we have included a Google map showing our location. We're proud of our brand new Salon and would love for you to visit us and have a look around.
Belle La Vie Microblading