COVID-19 INFORMATION
Please bring a mask. During your appt, you are required to wear a mask. Reschedule your appointment if you have been around someone with COVID-19 symptoms, you have traveled in the last 14 days, or you have symptoms yourself. Stay home if you are sick.
In The Belle La Vie Beauty Bar
---
The Quad Cities Premier Permanent Makeup Salon
Belle La Vie specializes in Permanent Makeup, Microblading, Powder Brows, Combo Brows, and Scalp Micro-Pigmentation. We are experts in determining what process is best for your particular situation.
We blend technology, skill, and artistry to give you beautiful eyebrows. Wake up beautiful every day with permanent makeup from Belle La Vie! 801-916-5755 
Microblading Frequent Questions 
---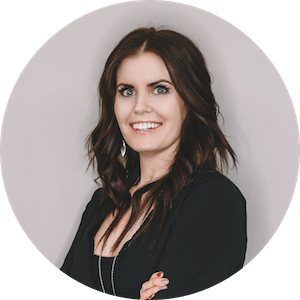 Kim is the owner of Belle La Vie and brought Microblading to the Quad Cities. Kim is a licensed Permanent Makeup Technician and the resident Brow Artist.
Come see Kim and find out for yourself why people love her work.
"I was born in Salt Lake City, Utah and moved to Bettendorf in 2014. I have been blessed with the most amazing husband in the world and two beautiful kids; Austin and Kora. We love the outdoors and spend a lot of time boating, fishing, camping and staying healthy.
Prior to launching Belle La Vie, I worked in the dental field and enjoy all things that are related to health and fashion. In 2016 I completed Microblading training in Salt Lake City and received my certification as a Microblade technician. I continue to attend regular Permanent Makeup training to stay current on the latest techniques and procedures. I have received over 10 certifications from the State of Iowa, Department of Public Health Tattoo Program."
---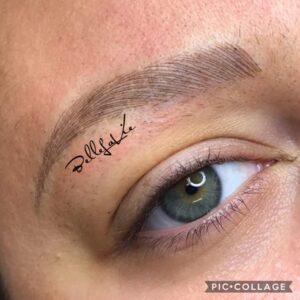 Microblading is designed to resemble realistic hair like strokes. You would want microblading if you have little to no brow hair to give your brows a more natural look. It is placed with a hand tool that has 12 tiny pins on it and almost resembles a razor blade. Basically, we are creating little tiny papercuts with pigment deposited in each one. Sounds awful, but it doesn't hurt because you are numbed 20 minutes before the procedure begins.
Healing time is about 2 weeks. Microblading is dry heal, you cannot sweat/exercise or get them wet while healing. A light ointment is applied daily to help the skin to heal.
It may sound intense but it is a very easy process and following after care instructions will give you stunningly beautiful, realistic brows that can last up to 12 months!
---
Initial Microblading (2 hrs) – $400

8 Week Touchup (1.25 hrs) – N/C

Annual Touch Up (1.25 hrs) – $100

Color Correction (1.5 hrs) – $200
---
Powder Brow is designed to give your brows a full "powdered look" without having to apply makeup every day. It is placed by a tattoo machine, and there are multiple different needles that can be used to get this look. It is still considered semi-permanent as we are staying in the epidermis layer, and can last up to 18 months. Healing process is the same as microblading, however this procedure gives you more flexibility with exercising/sweating while healing. There are many names for this look; powder brow, ombre brow, shaded brow, the list can go on but its all the same. You would pick powder brow if you have brow hair but just want a fuller look. 
---
Initial Powder Brow (2 hrs) – $400

8 Week Touchup (1.25 hrs) – N/C

Annual Touch Up (1.25 hrs) – $100
---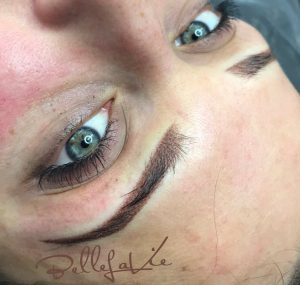 Combo Brow, AKA Blade & Shade. This is a mixture of the best of both worlds – microblading and powder brow. This is quickly becoming BelleLaVie's most popular brow. This is for those who have a little brow hair but also want that fuller look. In this picture above, we performed microblading and powder in the back. There are multiple ways to add hair strokes and powder  throughout the brow. We all have that one "Dollar general Brow" (lol quote by Alyssa) which is the trouble maker, and a perfect brow that always looks good. Combo brow is perfect to help even out the brows so that we have two beautiful brows.
The healing for Combo Brow would be the same as just microblading since we will be putting some microblading strokes in where there is hair missing. Results from combo brow will make you wake up smiling! 
---
Initial Combo Brow (2 hrs) – $400

8 Week Touchup (1.25 hrs) – N/C

Annual Touch Up (1.25 hrs) – $100
---

Our "Microchanneling" service is microneedling… evolved! Microchanneling is collagen stimulation by microchannel delivery of peptides, growth factors & cytokines. A tiny array of micro-filaments is is gently applied to create thousands of stimulating microchannels in your skin. It rejuvenates with little to no recovery time, and produces both corrective and anti-aging benefits. It's a favorite from Hollywood to New York, and provides skin rejuvenation that you will see!
Procell™ MicroChanneling & Stem Cell Therapy was developed in America by a Licensed Aesthetician and a Board Certified Dermatologist.
Procell improves the appearance of aging skin, increases the vitality of your skin, and reduces the appearance of fine lines, wrinkles, uneven skin tone, acne & acne scarring. It also improves the clinical health of your skin by stimulating a rejuvenation cascade that your body has built in, just waiting to be activated! Procell turns it on!
---
ProCell Therapy – Face, Chest, Hands (1.5 hrs) – $200
ProCell Therapy – Scalp (.75 hrs) – $190
---
Lip Blush Procedure – $50
---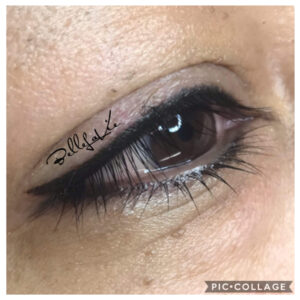 Permanent Eyeliner (3 hrs) – $250
---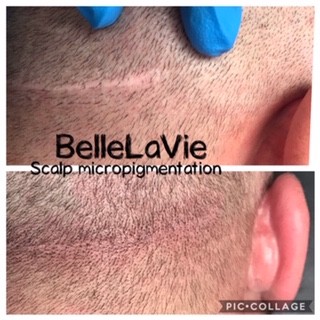 Using detailed micro-needles to deposit pigment into the scalp, Scalp Micropigmentation helps give the appearance of fuller hair. Scalp Micropigmentation is also great when it comes to concealing scars.
Scalp Micropigmentation FAQ
What is scalp micropigmentation? Scalp micropigmentation is the art of placing small deposits of pigment into the skin to perfectly replicate the look of a hair follicle. This procedure is done with specialized tools/needles that have been shaped to perfection and with pigments that are designed for this specific application. This is a very natural looking results for those who are experiencing hair loss, pattern baldness, receding hairlines or are looking for a more defined hairline.
Does it hurt? There is usually no discomfort during the SMP procedure and anesthetics are rarely used. However, we can offer topical anesthetic if desired.
Who is a good candidate for scalp micropigmentation? Scalp micropigmentation is perfect for those individuals who are tired of feeling embarrassed about thinning, balding or receding hairlines. Having the SMP procedure done will help give you back the confidence you deserve and improve your overall appearance.
How long does the treatment take? Every case is unique and can take anywhere from 2-6 hours. On average, SMP usually takes about 3-4 treatment sessions. However, some cases may take more depending on the skin and other factors. SMP is a process and we want you to have the best results.
How long does scalp micropigmentation last? After completion of the SMP (3-4) sessions, results can last up to 2-3 years. Over time clients may find their color lightening and will seek a touch up and continue to enjoy all the benefits of having completely natural results.
Aftercare: There is a 7 day healing process. There is no down time and no need to take time off work. There may be some redness for a few hours but feel free to wear a hat during that time as long as it doesn't touch the area treated. Days 1-4 are the most crucial and we will provide you with very detailed aftercare instructions.
How much does it cost? Each case is unique and will vary. BelleLaVie offers free consultations and price will be discussed at the consultation. We charge by the case and not by individual appointments. We aim for perfection and will not rush you through. We want you to love your results!
Can I get SMP if I had hair transplants? Absolutely! Scalp micropigmentation won't hurt your hair transplants, but can actually help add density to give you a fuller look. SMP can also help camouflage unwanted FUE/FUT scars left over from your hair transplant procedure.  You are also able to receive hair transplants after scalp micropigmentation procedure.
---
Scalp Micropigmentation Procedure – Per Case Basis
In The Belle La Vie Beauty Bar
---
At COR Aesthetics each client is unique and deserving of a customized skin care plan. We offer peels, waxing, and facials that will revitalize you and make you feel fantastic. We invite you to call and schedule your free personal skin care consultation. 563-505-3875
---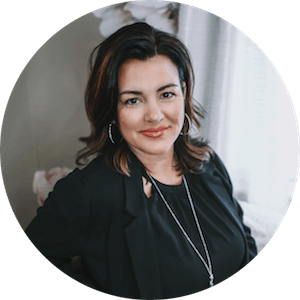 Corey takes the time to get to know her clients and determine their individual skin care needs. You'll love the warm, relaxing atmosphere of the Belle La Vie Beauty Bar suites and you'll leave your appointment feeling refreshed and renewed.
"I am a graduate of Capri College in Davenport and a licensed aesthetician. I specialize in the health and beauty of skin care. I offer premium services and provide the utmost in customer satisfaction."
COR Aesthetics offers cosmetic facials to relax you and rejuvenate your skin. You'll love them all.
Glo Express is a customized 45 minute facial that includes a cleanse, exfoliation, toner, masque, and hydration. This is a great introductory facial or for someone always on the go. (45 minutes – $45)
Glo Back In Time is an anti-aging facial that will smooth, soften, and revitalize your complexion. This advanced treatment utilizes plant stem cell technology so skin is nourished with vitamins and botanicals during a relaxing massage. Followed by an application of a specialized serum and mask designed to help regain elasticity and plumpness. Your skin is left looking lifted and lustrous. (1 hour – $60)
Brighten Your Glo facial will revitalize tired, dull skin from the inside out with a powerful blend of antioxidant brighteners and moisturizing agents. These products are specially formulated to treat hyper-pigmentation and even out skin tone as well as boost your skin's glow with a healthy dose of vitamin C. (1 hour – $60)
The Glo Pure-Fection facial targets existing breakouts while drawing out impurities and refining texture to fight future flareups. Enzymatic exfoliation softens and preps the skin to clear debris from follicles followed by a clay treatment mask to draw out excess oil. Medicated ingredients purify the skin, reduce bacteria as well as skin irritations. (1 hour – $60)
The Glo Gentleman's Facial is a customized facial that will help reduce inflammation from razor bumps, reduce pore size, brighten uneven skin tone, and reduce excess oil production. This is a no-fuss facial designed just for the guys to help get your Glo, Bro! (45 minutes – $45)
Green Envee Signature Facial
This signature facial is customizable and will blend nature, science, and organic ingredients to deliver significant results. Clients will choose preferred aromatherapy scent for facial massage which is balanced for all skin types and conditions. (45 minutes – $65)
Wellness Signature Facial
The Wellness Signature Facial blends nature + science with high potency herbs, bioactive essential oils, and wild + organic ingredients that deliver amazing results. A therapeutic oil blend of Ashwangandha Root + Frankincense Resin is used to stimulate collagen production achieving a restored, youthful experience. A relaxing Ayurvedic massage with marmapoint therapy to finish the facial will promote inner peace to the mind + body. (1 hour – $70)
Pumpkin Glycolic Enzyme Peel
Discover glowing skin with the enzymatic process of organic pumpkin + exfoliation techniques with glycolic acid. Revitalize dull, aging skin with this antioxidant power treatment! The stimulating action of glycolic acid and bilberry + clove increases cell turnover, brightens skin, and reduces fine lines + wrinkles. This facial is recommended for a series of weekly treatments for 4-6 weeks for optimal results. (30 minutes – $50)
Signal soothing relief with the exclusive treatment designed to safeguard skin with powerful anti-inflammatories, hydrators and antioxidants to revitalize, increase strength and enhance radiance. Light exfoliation helps to gently encourage smoother skin and allows for soothing agents to work on a deeper level, providing serious calming action to even the most sensitive skin. (1 hour – $60)
Eyebrows
Eyebrow (30 minutes - $15)
Lip
Chin
Cheeks
Cheeks (30 minutes – $15)
Whole Face/Neck
Whole Face/Neck (45 minutes – $50)
Nose or Ears
Nose or Ears (30 minutes – $10)
Underarms
Underarms (45 minutes – $25)
Half Arm
Half Arm (30 minutes – $30)
Full Arm
Full Arm (45 minutes – $45)
Chest
Chest waxing starts at $45 and may increase due to amount of hair and if trimming is necessary to provide complete removal. (1 hour – $45)
Back
Back waxing starts at $45 and may increase due to the amount of hair or if trimming is necessary to achieve complete removal. (1 hour – $45)
French Bikini
French Bikini waxing starts at $45 and may increase due to amount or hair and if trimming is necessary to achieve complete removal. The French will remove hair from the top, inner and outer thigh only. Labia and backside are not addressed in this service. (45 minutes – $45)
Full Leg
Full Leg (45 minutes – $60)
Lower Leg
Lower Leg (45 minutes – $40)
Full Body
Includes Full Face, Underarms, Full Arm, Full Leg, and a French Bikini (1 hour 30 minutes – $200)
ProCell Improves the appearance of aging skin, increases the vitality of your skin, and reduces the appearance of fine lines, wrinkles, uneven skin tone, acne & acne scarring. It also improves the clinical health of your skin by stimulating a rejuvenation cascade that your body has built in, just waiting to be activated! ProCell MicroChanneling is Microneedling Evolved!
Pro Cell Treatment (1 hour 30 minutes - $200)
B.T Micro Extractions (15 minutes - $15)
Used to treat a variety of conditions including acne, large pores, fine lines and wrinkles and puffy or dark eyes. (5 minutes - $10)
Gly pro resurfacing peel (10 minutes - $35)
Beta Clarity Peel (10 minutes - $35)
Hydra Radiance Peel (10 minutes - $35)
Prepare to be PAMPERED!
Microblading ◊ Powder Brows ◊ Combo Brows ◊ ProCell ◊ Waxing ◊ Peels ◊ Lips ◊ Nails
Belle La Vie Beauty Bar is the premier salon in the Quad Cities for permanent makeup, microblading, aesthetics, nails and more.
The Quad Cities original Microblading salon has expanded to include a full range of Permanent Makeup,Procell Therapies, Cosmetic Facials, Body Waxing, Gel Nails, and Custom Manicures & Pedicures. The addition of  COR Aesthetics, and The Nail Studio compliment and enhance our already impressive line of services.
You can be assured of top quality products and service from all of our fully licensed Belle La Vie Beauty Bar staff. You'll love the warm, inviting and relaxing environment and you'll leave your appointment feeling refreshed and looking beautiful.
Our convenient location on the 53rd Street corridor is super clean, cozy and inviting. Our exceptional staff always make you feel comfortable and takes the time to explain any of our services and answer your questions.
Come see us and find out why our clients rave about us.
Keep up on the latest permanent makeup trends in our Beauty Bar News. Visit often for lots of great tips and photos.