Kahler Aesthetics Davenport
Welcome to Kahler Aesthetics, where we strive to help you achieve your aesthetic goals through advanced medical procedures and treatments. We offer a range of services including Botox injections, Injectable Fillers, Vitamin Injections, and IV Hydration to help you look and feel your best. Our highly trained medical professionals will work with you to design a personalized treatment plan that addresses your specific needs and concerns. Whether you're looking to smooth fine lines and wrinkles, enhance your lips or cheeks, or simply rejuvenate your skin, we've got you covered. Why not schedule a consultation right now and start your journey to a more youthful and refreshed appearance. Have questions?
Michelle Kahler, MSN, ARNP-CRNA
Board Certified Registered Nurse Anesthetist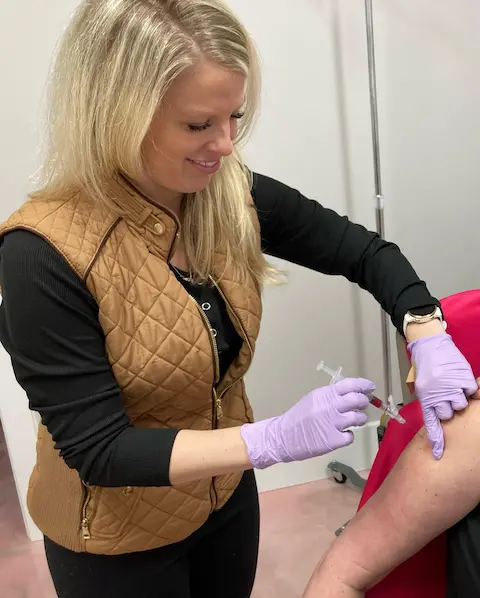 By Appointment Only
Michelle is available by appointment only. Schedule your appointment online quickly and easily.
Michelle grew up in Boardman, Ohio. She and her twin brother are the oldest of four kids. Michelle learned to quilt when she was 10 or 11 years old from her grandma and credits her love of injecting to all that needle work she did as a kid.
Michelle graduated in 2015 from Kent State with a Bachelor of Science in Nursing. She then continued her education at Youngstown State University where she received her Masters of Science in Nursing and Certified Registered Nurse Anesthetists.
Michelle and her husband, Shawn, recently moved to Iowa. They have a daughter and dog (son) who they love sharing all of their spare time with.
Michelle is a practicing CRNA with Unity Point Trinity and loves caring for her patients. She says, "knowing they are safe, comfortable and informed is the best part of my job." She has built amazing friendships with the OR teams and appreciates the amount of respect everyone shows each other.
Michelle also has a "home" at Belle La Vie Beauty Bar, where she provides Botox, IV Infusions, Vitamin B12 Methylcobalamin Injections and free skin care consultations. The hospital is where her education has led her, but her real passion is in aesthetics and skincare.
When asked why Michelle decided to team up with Belle La Vie Beauty Bar her response was simple, "I wanted to be somewhere that represented all things girly and "nice girl". I wanted an environment that was inviting and people could come and relax, get pampered and leave without feeling judged."
Kahler Aesthetics Services
Trust Kahler Aesthetics For Your Injectables and IV Needs
Cosmetic Neurotoxin Injections - Botox® Injection $11 per unit
Filler (available in March)
Vitamin B12 IM Injection - $35
Vitamin D3 IM Injection - $35
IV Infusion

Quench is our IV vitamin infusion created to hydrate and combat fatigue from dehydration - $175
Reboot is designed to replenish and combat hangover related symptoms such as dehydration, headache, and nausea - $175

Injectable Filler - $599 (60 minutes)

All clients must attend a free 30 minute consultation before being able to schedule a lip filler treatment.
Reduce the Visible Effects of Aging with Botox® and Injectable Fillers
Soften lines and restore volume with trusted treatments at Kahler Aesthetics
Botox is a cosmetic injectable used to relax or fill in fine lines and wrinkles. It's marketed as a solution for the visible signs of aging on the skin, such as wrinkles and fine lines, and has been in use for close to 20 years. Botox injections are noted primarily for the ability to reduce the appearance of facial wrinkles.
In addition to its cosmetic uses, Botox can also be used to treat conditions such as neck spasms (cervical dystonia), excessive sweating (hyperhidrosis), an overactive bladder and lazy eye, and may also help prevent chronic migraines.
Dermal fillers are another type of cosmetic injectable used to smooth wrinkles and skin folds by restoring volume. They work by filling in areas of the face that have lost volume due to aging.
Kahler Aesthetics offers these cosmetic injectables to help you reduce the visible effects of aging and soften lines. Trust our expertise in medical dermatology to give you the appearance you desire.
Revitalize with IV Therapy and Vitamin Injections
Get high-quality and trustworthy med spa IV therapy at Kahler Aesthetics
IV Hydration therapy involves the intravenous administration of fluids, electrolytes, and/or vitamins and is sometimes used to address symptoms associated with hangovers, migraines, and other conditions.
IV Hydration therapy can reduce the symptoms of headaches and migraines, which are the most common symptoms of hangovers. The lack of fluid caused by drinking excess alcohol leads to hangovers and headaches, and IV Hydration therapy can help alleviate these symptoms by rehydrating the body.
IV Hydration therapy can provide relief from migraines by delivering vitamins, electrolytes, and hydration directly into the bloodstream, providing faster relief than typical oral treatments.
It is important to consult with a healthcare professional like Michelle before undergoing any type of IV therapy, including IV Hydration therapy, to ensure that it is safe and appropriate for your specific needs and medical history. Additionally, it is essential to understand the potential risks and benefits of any medical procedure, and to carefully weigh these factors before making a decision.
Frequently Asked Questions
What is IV Hydration therapy?
IV infusion is a medical procedure in which medication, fluids, nutrients, and other substances are administered directly into the bloodstream via a vein. This is a simple, safe, and common procedure with a low risk of complications.
What are the benefits of Vitamin B12 injections?
Many people use vitamin B12 injections for a variety of reasons. B12 shots can provide increased energy, improved mood and concentration, weight loss, better sleep, hair growth, and improved metabolism. Vitamin B12 injections may also help reduce the risk of heart disease, stroke, neurological disorders, thinking and memory problems, vision loss, infertility, and neural tube defects.
What is Botox and where can I get it?
Botox is a cosmetic treatment that uses a chemical to temporarily paralyze muscles, reducing the appearance of wrinkles. Botox services can be scheduled here at Kahler Aesthetics. You can use this Scheduling link.
Latest From Kahler Aesthetics
Find Kahler Aesthetics In The Belle La Vie Beauty Bar
Kahler Aesthetics Contact Form