There have been tons of questions about this topic. "What is the difference between Microblading vs Powder Brow vs Combo Brow." Here's the  BelleLaVie Brow Break-Down. Here we go! ????
Microblading vs Powder Brow vs Combo Brow – Which Should You Choose?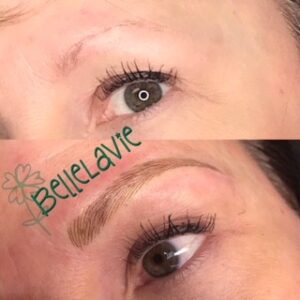 Microblading
Microblading is designed to resemble realistic hair like strokes. You would want microblading if you have little to no brow hair to give your brows a more natural look. It is placed with a hand tool that has 12 tiny pins on it and almost resembles a razor blade. Basically, we are creating little tiny paper cuts with pigment deposited in each one. Sounds awful, but it doesn't hurt because you are numbed 20 minutes before the procedure begins. Healing time is about 2 weeks. Microblading is dry heal – you cannot sweat/exercise or get them wet while healing. A light ointment is applied daily to help the skin to heal. Sounds intense but it is a very easy process and following after care instructions will give you stunningly beautiful, realistic brows that can last up to 12 months. ?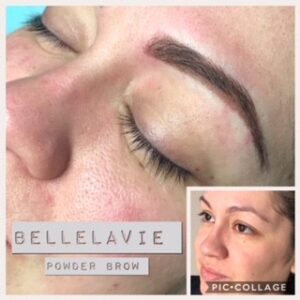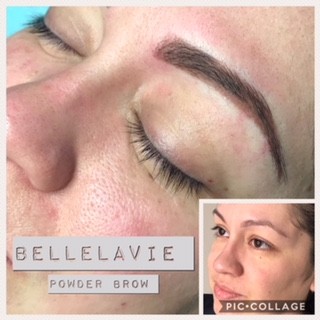 Powder Brow
Powder Brow is designed to give your brows a full "powdered look" with out having to apply makeup every day. It is placed by a tattoo machine, and there are multiple different needles that can be used to get this look. It is still considered semi-permanent as we are staying in the epidermis layer, and can last up to 18 months. Healing process is the same as microblading, however this procedure gives you more flexibility with exercising/sweating while healing. There are many names for this look; powder brow, ombre brow, shaded brow, the list can go on but its all the same. You would pick powder brow if you have brow hair but just want a fuller look.  ?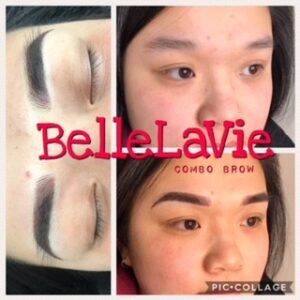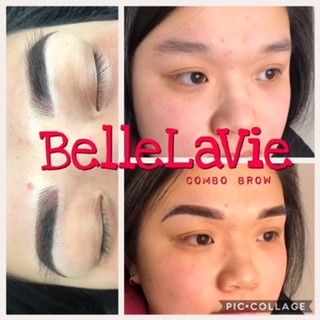 Combo Brow
Then there is the Combo Brow, AKA Blade & Shade. This is a mixture of the best of both worlds; microblading and powder brow. This is quickly becoming BelleLaVie's most popular brow. This is for those who have a little brow hair but also want that fuller look. In this picture above, she has microblading in the front and all powder in the back, but there are multiple ways to add hair strokes and powder throughout the brow. We all have that one "Dollar general Brow" (lol quote by Alyssa) which is the trouble maker, and a perfect brow that always looks good. Combo brow is perfect to help even out the brows so that we have two beautiful brows.The healing for this would be the same as just microblading since we will be putting some microblading strokes in where there is hair missing. Results from combo brow will make you wake up smiling! ?
Microblading vs Powder Brow vs Combo Brow – Now You Know
Now that you know the difference between all 3, Its time to decide which brow is best for you. As always, we offer free consultations. Come meet BelleLaVie's staff and see our beautiful salon and friendly atmosphere and let's get started on your perfect brows!
There you have it, all the brow types and how to heal them. Microblading isn't just about getting a tattoo on your face, but it's an art form that can be used to enhance your natural beauty.
The Quad Cities Premier Permanent Makeup Salon
Belle La Vie specializes in Permanent Makeup, Microblading, Powder Brows, Combo Brows, and Scalp Micro-Pigmentation. We are experts in determining what process is best for your particular situation.
We blend technology, skill, and artistry to give you beautiful eyebrows. Wake up beautiful every day with permanent makeup from Belle La Vie! 801-916-5755 
We have the answers to all of your permanent makeup questions. Visit our FAQ Page and get all your questions answered.