Permanent Makeup FAQ
Your questions… Answered.
What is Microblading?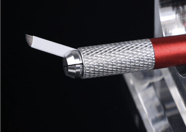 Microblading is an advanced brow embroidering technique where pigment is placed into the skin with a configuration of needles affixed to a hand held tool. Unlike your grandma's bold brow tattoos in the past, Microblading is designed to form thin, feather-like strokes that give a completely natural 3D brow effect. Microblading is different than tattoos because we use pigment vs ink. Pigment (and the make-up we use) has iron oxide in it which will make it fade softer over time. Unlike a tattoo, Microblading is semi-permanent because the strokes placed are superficial, and aren't placed as deep. This is ideal because as we age, our face changes. Microblading is semi-permanent so we are able to keep our brows fresh and won't be stuck with the same brows for years. Microblading is perfect for those with uneven brows, over plucked, missing or for those who want fuller looking brows.
What is Powder Brow?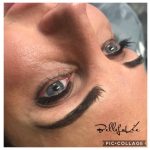 Powder Brow is designed to give your brows a full "powdered look" without having to apply makeup every day. It is placed by a tattoo machine, and there are multiple different needles that can be used to get this look. It is still considered semi-permanent as we are staying in the epidermis layer, and can last up to 18 months. Healing process is the same as microblading, however this procedure gives you more flexibility with exercising/sweating while healing. There are many names for this look; powder brow, ombre brow, shaded brow, the list can go on but its all the same. You would pick powder brow if you have brow hair but just want a fuller look. 
Does the procedure hurt?
Permanent makeup isn't designed to hurt. A topical anesthetic is placed before, during and after the procedure. There may be a little sensation, but we try to make you feel as comfortable as possible.
How long does the process take?
Permanent makeup usually takes 1.5 – 2 hours from consultation to finish. The shaping of the brows and finding the perfect color takes longer than the actual procedure itself.
Do I need a consultation?
Most appointments can have the consultation same day of service. However, if you are concerned about allergies or wish to have a scratch test done before doing Brows, we can set up a free consultation/scratch test then schedule back in 4 weeks. If you take medications, have a medical condition, take blood thinners, have had previous tattoos or any other concerns you may have, its best to start with a free consultation.
Is The Equipment Sterilized?
Yes Absolutely! The Permanent makeup equipment we use at Belle La Vie Beauty Bar is 100% sterile!
How Do I Schedule An Appointment?
It's easy to schedule your appointment with Belle La Vie Beauty Bar.
You can call us at 801-916-5755 and we'll get you set up.
If you prefer, you can schedule your appointment online using our Appointment Scheduler
How Much Does It Cost?
Our fee structure is as follows;
Our permanent makeup procedure costs 400.00 (plus tax) and the 8 week Touch up is included if needed.
We are happy to offer a free touch up between 1-3 months if needed. This appointment is made on the availability of Belle La Vie schedule.
touch ups from the initial appointment done by BelleLaVie $150.00.
color correction in $200
touch ups when the initial microblading procedure was done by a different microblading artist require a consultation to discuss treatment and costs.
How Long Will My Brows Last
A lot depends on the individual and the lifestyle they live. For instance, brows can fade quicker for individuals with excessively oily skin, who worship the sun and/or tanning beds, regeneration of the individual skin cells, iron deficiencies, many factors can affect the results. Permanent makeup isn't guaranteed but could last anywhere from 1-3 years. After that, you may just need a yearly touch up to keep the hair strokes looking crisp and fresh.
Shape & Color
Usually, the individual knows how they prefer their brows to look. After the consultation, we measure and shape according to bone structure, face shape, and other factors. We draw on the skin with our stencils so the desired look can visually be seen. We then have the individual view it and make any adjustment necessary. Before we start the actual Brow procedure, we (the client and technician) choose a color that will work best for the client by testing the color on their skin (usually the forehead). Once we are all happy and the brows are agreed upon, the brow procedure begins.            
How Long Does It Take To Heal?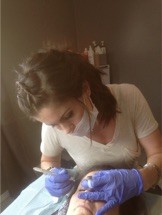 This is a dry heal, no makeup, water or sweating on the brows for the first two weeks. However, we have you apply ointment for the first week (depending on skin type). During the first few days, your brows will appear darker as the pigment is oxidizing. After that, the color will soften to the desired shade. Flaking and itching is normal and will soon dissipate. Brows are a 2 (sometimes 3) step process. There is a 6-8 week touch up that will be needed after the initial appointment because we anticipate some people can lose up to 50% of pigment on the first go. After that, you get to kick back and enjoy having beautiful brows 24/7.
Permanent Makeup Healing Process
The first few days the brows will look darker because the color has oxidized. Kind of like when you take a bite of an apple and leave it on the counter, it goes darker. As the days go on, you will notice the brows start to lift and flake. It is very important that you do not scratch or pick at your brows. If you pick you risk scaring your skin and also will pull the pigment out. After the flakes are off, it may look as if the brows didn't stay, however the color will slowly surface through mitosis usually by the 3rd or 4th week. Permanent make up will usually need a touch up appointment in a few weeks because it doesn't take 100% the first appointment. After your touch up appointment, you go through the same healing process as before. But after they are healed, you should only need a touch up annually.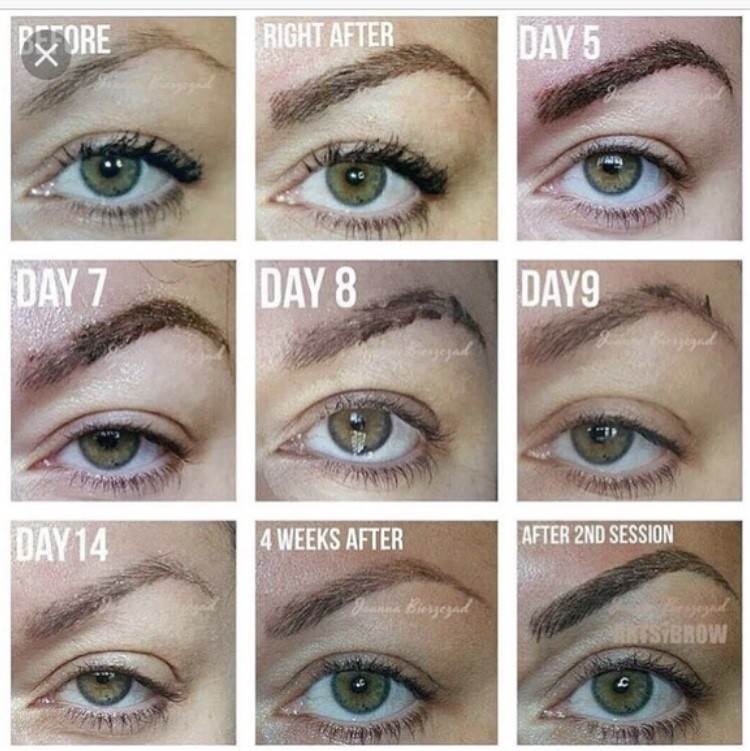 Is Permanent Makeup For Everyone?
Unfortunately, Permanent Makeup isn't for everyone. You must be 18 years old.  Pregnant or breastfeeding ladies must wait to have their brows done. The pigments used have iron oxide and nickel in them. An adult kidney can detect these and excrete it without complication, but unfortunately a baby cannot. Although rare, there is always a possibility of infection. We would rather avoid any possible complications for the developing baby. Also, if you are dealing with a medical condition such as cancer, hepatitis, have a history of keloids, high blood pressure, diabetes, HIV, hemophilia, or an autoimmune disorder of any kind Brows probably aren't for you. If you take medications, have a medical condition not listed above, or anticipate an MRI in the future a Dr.'s not and a consultation will be required before you can proceed with Brows. Please plan accordingly.
Will My Brows Fade?
All colors eventually fade. From paint colors on the wall, on cars and hair dyes, so too will pigments in your brows. Sun fades all colors, we recommend wearing hats or sunblock on the brows (healed) when out in the sun and avoid tanning beds. Everybody's environment and hygiene is different and could alter the duration of their brows. We recommend yearly touch-ups to keep your brows looking their best.        
Pre-Procedure Advice
Pre-Procedure Advice
Here at Belle La Vie Beauty Bar we wish for you to receive the best permanent makeup experience possible. Brows usually requires multiple steps to achieve the desired brows. Touch-ups are done 6-8 weeks after the initial procedure. Please keep in mind after the first procedure the brows will be 50% darker and will soften within two weeks. In order to achieve best results please follow these before and after-care instructions.
The day of your appointment, less make up is better, it is best to not wear any powder, or foundation on your skin so we can better understand your skin undertones. Now I am not a complete monster, mascara is totally ok, and we do take before and after photos that we may publish on our website or on social media.
If you prefer music/earbuds please feel free to bring them.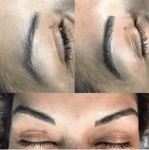 A scratch test can be performed (usually at a consultation) and a topical numbing agent will be used before, during, and after the procedure. However, individuals with sensitive skin could still experience slight discomfort and may become red or swollen in the area after the procedure. We will do our best to make you as comfortable as possible.
After your procedure, if needed, you can apply ice packs with a clean paper towel on the brows for 10 minutes at a time. Ice packs more than 10 minutes at a time can cause skin damage. Never place ice packs directly on the skin, always have a clean paper towel over it.
Although rare, reactions can happen after the procedure. If this were to happen, call your doctor or head to the emergency room.
Limit your caffeine intake the day of, and avoid alcohol 24 hours before and after the procedure.
Avoid using AHA and Retin-A products 6 months before the procedure. Botox, microdermabrasion, chemical/laser peels, and exfoliation treatments shouldn't be done 6 weeks prior to your microblading procedure. If you have had any of these recently, please inform your technician. Avoid brow waxing or tinting the week before your appointment.
Avoid vitamin E, Aspirin, Advil, Ibuprofen, and fish oil 72 hours before your procedure. A Dr.'s note may be required before your microblading procedure can be performed.
Avoid sun tanning/exposure 10 days before your procedure and 14 days after. Sun exposure can fade the pigments. After brows are completely healed, always plan on applying sunscreen whenever in the sun.
It is recommended that you apply Vaseline to the treated areas prior to swimming even after healed to prevent the chlorine water/salt water from penetrating the area.
Pre-Care instructions are designed to limit bleeding and skin sensitivities during the service. Excessing bleeding during the procedure can dilute the pigment color and lead to poor results like scabbing which can scar and/or remove pigment.
Important Additional Requirements
Important Additional Requirements
Do you have an allergies? If so, we can do a consultation/scratch test a few weeks prior to appointment.
Medications?
Do you get Botox/injections? If so, need to wait 3 weeks to get brows.
Do you have rosacea?
Do you have thyroid issues?
Hashimotos disease? We can do a consultation/scratch test to make sure color will be ok.
Do you have an autoimmune disease?
Are you anemic? If so you'll need a  Consultation/Scratch test before appointment.
Have you had brow tattoos before? Consultation first.
Are you over 18?
Are you pregnant/nursing? Need to wait.
Do you take a blood thinner/baby aspirin? Consult doctor, usually need to be off it 3 days prior.
Do you use retinal/glycolic acids/ or use anti aging creams? Need to stop using them 1 month prior to appointment .
Microblading From Start to Finish
Contact Belle La Vie Beauty Bar