Microblading
Microblading is designed to resemble realistic hair-like strokes. You would want microblading if you have little to no brow hair to give your brows a more natural look. It is placed  with a hand tool that has 12 tiny pins on it and almost resembles a razor blade. Basically, we are creating little tiny paper cuts with pigment deposited in each one. Sounds awful, but it doesn't hurt because you are numbed 20 minutes before the procedure begins. Healing time is about 2 weeks. Microblading is dry heal, you cannot sweat/exercise or get them wet while healing. A light ointment is applied daily to help the skin to heal. Sounds intense but it is a very easy process and following after care instructions will give you stunningly beautiful, realistic brows that can last up to 12 months.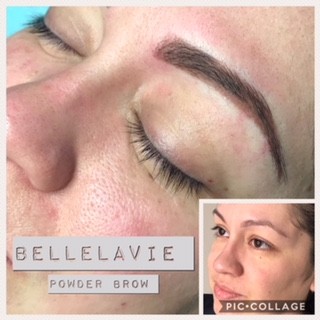 Powder Brow
Powder Brow is designed to give your brows a full "powdered look" without having to apply makeup every day. It is placed by a tattoo machine, and there are multiple different needles that can be used to get this look. It is still considered semi-permanent as we are staying in the epidermis layer, and can last up to 18 months. Healing process is the same as microblading, however this procedure gives you more flexibility with exercising/sweating while healing. There are many names for this look; powder brow, ombre brow, shaded brow, the list can go on but its all the same. You would pick powder brow if you have brow hair but just want a fuller look.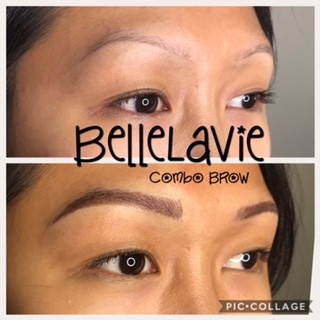 Combo Brow
Then there is the Combo Brow, AKA Blade & Shade. This is a mixture of the best of both worlds; microblading and powder brow. This is quickly becoming Belle La Vie's most popular brow. This is for those who have a little brow hair but also want that fuller look. In this picture above, she has microblading in the front and all powder in the back, but there are multiple ways to add hair strokes and powder throughout the brow. We all have that one "Dollar general Brow" (lol quote by Alyssa) which is the trouble maker, and a perfect brow that always looks good. Combo brow is perfect to help even out the brows so that we have two beautiful brows.The healing for this would be the same as just microblading since we will be putting some microblading strokes in where there is hair missing. Results from combo brow will make you wake up smiling!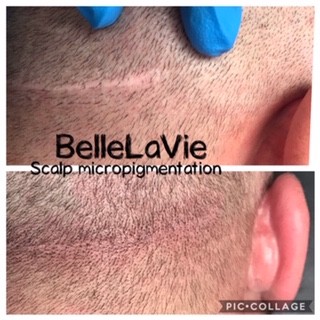 Scalp Micropigmentation
Using detailed micro-needles to deposit pigment into the scalp, Scalp Micropigmentation helps give the appearance of fuller hair. Scalp Micropigmentation is also great when it comes to concealing scars.
Scalp Micropigmentation FAQ
What is scalp micropigmentation? Scalp micropigmentation is the art of placing small deposits of pigment into the skin to perfectly replicate the look of a hair follicle. This procedure is done with specialized tools/needles that have been shaped to perfection and with pigments that are designed for this specific application. This is a very natural looking results for those who are experiencing hair loss, pattern baldness, receding hairlines or are looking for a more defined hairline.
Does it hurt? There is usually no discomfort during the smp procedure and anesthetics are rarely used. However, we can offer topical anesthetic if desired.
Who is a good candidate for scalp micropigmentation? Scalp micropigmentation is perfect for those individuals who are tired of feeling embarrassed about thinning, balding or receding hairlines. Having the SMP procedure done will help give you back the confidence you deserve and improve your overall appearance.
How long does the treatment take? Every case is unique and can take anywhere from 2-6 hours. On average, smp usually takes about 3-4 treatment sessions. However, some cases may take more depending on the skin and other factors. SMP is a process and we want you to have the best results.
How long does scalp micropigmentation last? After completion of the SMP (3-4) sessions, results can last up to 2-3 years. Over time clients may find their color lightening and will seek a touch up and continue to enjoy all the benefits of having completely natural results.
Aftercare: There is a 7 day healing process. There is no down time and no need to take time off work. There may be some redness for a few hours but feel free to wear a hat during that time as long as it don't touch the area treated. Days 1-4 are the most crucial and we will provide you with very detailed aftercare instructions.
How much does it cost? Each case is unique and will vary. BelleLaVie offers free consultations and price will be discussed at the consultation. We charge by the case and not by individual appointments. We aim for perfection and will not rush you through. We want you to love your results!
Can I get SMP if I had hair transplants? Absolutely! Scalp micropigmentation won't hurt your hair transplants, but can actually help add density to give you a fuller look. Smp can also help camouflage unwanted FUE/FUT scars left over from your hair transplant procedure.  You are also able to receive hair transplants after scalp micropigmentation procedure.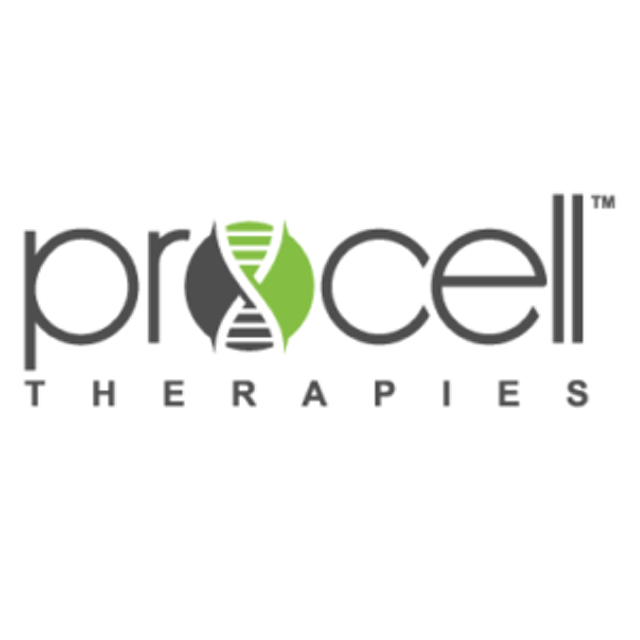 Procell Therapy
Our "Microchanneling" service is microneedling… evolved! Microchanneling is collagen stimulation by microchannel delivery of peptides, growth factors & cytokines. A tiny array of micro-filaments is is gently applied to create thousands of stimulating microchannels in your skin. It rejuvenates with little to no recovery time, and produces both corrective and anti-aging benefits. It's a favorite from Hollywood to New York, and provides skin rejuvenation that you will see!
Procell™ MicroChanneling & Stem Cell Therapy was developed in America by a Licensed Aesthetician and a Board Certified Dermatologist.
Procell improves the appearance of aging skin, increases the vitality of your skin, and reduces the appearance of fine lines, wrinkles, uneven skin tone, acne & acne scarring. It also improves the clinical health of your skin by stimulating a rejuvenation cascade that your body has built in, just waiting to be activated! Procell turns it on!

Procell MicroChanneling induces new collagen and reduces the signs of aging via stimulation of your Stem Cells, and the introduction of potent peptides, growth factors and Stem Cytokines.
In the past microneedling technologies (like the pens and rollers) relied on creating damage to the skin in order to trigger tissue repair via your body's powerful wound healing ability.
Procell MicroChanneling is microneedling evolved!
We encourage you to contact us if you have any questions. Our goal is for you to be knowledgeable and confortable with any procedure you may be interested in.